Every few years Naples beaches go through a "renourishment" project. Beach erosion is always an issue and to keep the beaches in the beautiful condition that everyone desires, sand has to be added and distributed.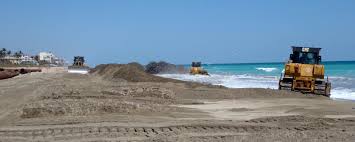 In the past this entailed dredging sand from offshore and the directing it onto the beaches for distribution. There is less available sand offshore for such projects and costs for that method are up so sand is now being brought in by truck from a mine in Immokalee. This project will affect the Park Shore, North Park Shore and Clam Pass beaches from October through then end of the year. That's 2.5 miles of beach and 165,000 tons of sand being brought in. It is expected that this will mean about 70 trucks will make three or four trips each day, seven days a week.
Sand will be delivered and staged at the North Gulf Shore and Horizon Way access points 7 days a week from sunup to sundown. However, the beaches will only will be closed where work is in progress.
Updated information as the project progresses can be found at https://www.colliercountyfl.gov/your-government/divisions-a-e/capital-project-planning-impact-fees-and-program-management/coastal-zone-management-section/2019-beach-renourishment